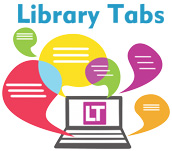 Moving your content and services to Facebook
Add our Library Tabs to your Facebook page and instantly your newest books, videos and music selections appear. Visitors can search your catalog, read your newsletters, check out your calendar of events, or read an excerpt from one of the books featured in the Online Book Clubs.

Take content from your library's website and display it on Facebook. Then when you update your website, the content on Facebook is automatically updated, too.
Testimonial:

"On behalf of the East Hampton Public Library, I thank DearReader for info about and tech support for implementing Library Tabs into our library's Facebook page." — Sue Berescik, Director East Hampton Public Library
Library Tabs puts all of your BookNews, Online Book Clubs, New Book Alerts and your Library WishList content on Facebook. Visitors can read your newsletters, select one of your weekly book clubs, view new arrivals, search your catalog, signup to volunteer, or make a donation to your library. You can also add links and content from your library's website, including RSS feeds, rotating widgets, calendar of events, and much more.
You control a multi-level, drop-down menu that allows you to bring your existing content over to Facebook and put the power of social networking to work at your library. Add our Library Tabs menu to your Facebook page, and suddenly Facebook becomes a miniature version of your library's web page. Why create new content for Facebook when you can use the content you already have? Plus, when you update your library's website, your Facebook content automatically updates, too.
Testimonial:

"I just wanted to say that adding our newsletters to our Facebook page was easy. We are hoping to add many more people to our newsletter subscriptions with this new way to reach out." — Susan Fisher, Web Services Coordinator, Alameda County Library
Recycle your current content
The good news is you don't have to spend time and money creating new content for Facebook. You just need a way to display your website content on Facebook and that's what our Library Tabs help you do. And you don't have spend time maintaining your Facebook pages. Library Tabs automatically updates your content. If you add an event, change your hours, or publish your monthly newsletters, those changes are instantly displayed on Facebook.
Now you can easily convert your existing web content to dynamic Facebook content. Our Library Tabs can turn your Facebook page into a miniature version of your library's website.

Facebook® is a registered trademark of Facebook Inc.
Library Tabs is an application that you install on your Facebook pages.