Newsletters, Staff Picks, Award Lists and more...
Patrons can select from 21 monthly newsletters and 50 award lists all with direct links into your catalog. Your staff can create a variety of custom newsletters, staff picks and recommendations including a digital version of your library's printed newsletter. Patrons can subscribe via email, RSS feed, or view everything at your library's BookNews page.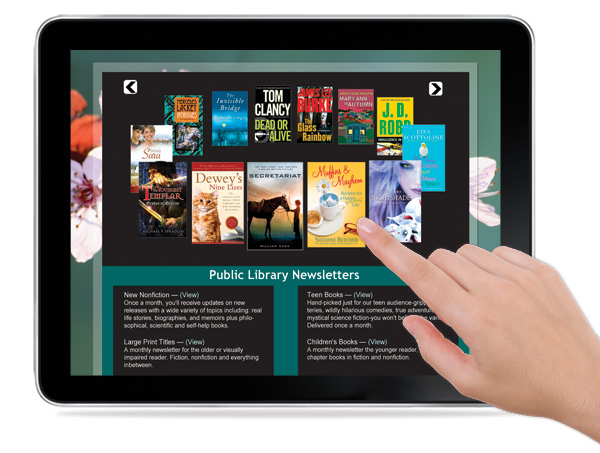 Create custom newsletters and booklists
All the tools you need to quickly customize the ready-made content or create your own content, including page designs, templates, and graphics. Our Auto Newsletter feature allows you to create a 20-book newsletter, or booklist in less than a minute, complete with book jackets, annotations and direct links to your catalog.
Easily convert your
printed newsletters
You can easily convert your library's multi-page printed newsletter to a digital format that your patrons can view online, or in their email. Past issues are automatically archived.
Multi-page email newsletters
Use these for content that doesn't fit on one page. The pages are automatically linked together with an optional dynamic table of contents. It's like emailing people a miniature website.
Widgets
Promote your newsletters using a variety of book jacket widgets. We make it easy. Check off newsletters you want to promote, set the size of your widget, pick a background color, and preview the finished widget. Copy the code snippet, place it on your web page and it automatically updates every time your newsletters change.
Powerful list management software
We send out over 375,000 emails to book club subscribers each day, so we've become email experts. We manage your subscribers and automatically take care of bounce backs, assuring your emails get delivered.
RSS feeds
We offer RSS feeds for all of your monthly newsletters. In addition, you can create your own RSS channels for library news, events, or any content you create.
Database of 14 million books and DVDs
Our Ingram database includes book jackets, DVD covers, annotations, and reviews.